Facts Practice is being added to My Math Assistant in Fall 2020! It is currently available for the following books:
Math 5/4 Homeschool (3rd) edition
Math 6/5 Homeschool (3rd) edition
Math 7/6 Homeschool (4th) edition
Math 8/7 Homeschool (3rd) edition
Math 87 2nd edition
Most of the Facts Practice will be completely web-based and not directly from the Saxon book. It will cover the same skills, however. This means that your student does not have to change their rhythm at all. When they login to grade their lesson they will be presented with Facts Practice and will complete it right on the computer before entering their lesson or test answers.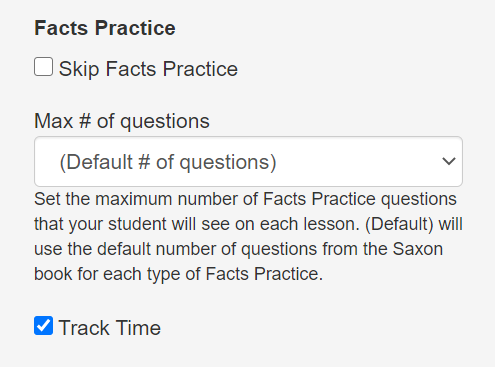 By default it is turned off. To turn it on, login to your parent account and find the Settings for your student. Under Question Options you will see a new section where you can uncheck the box next to "Skip Facts Practice".
Because some of the Facts Practice tests in Saxon are so long, I also added an option to limit the Facts Practice to a maximum number of questions if you wish to do so. Otherwise, your student will get the default # of questions from the Saxon book for that type of Facts Practice.

You can also optionally turn on a timer to keep track of how long it takes your student to do each Facts Practice. This is useful for the student to see progress as they being to master the facts. Some students find the timer stressful so you can turn it off if needed. It is turned off by default.
Some other notes
The Facts Practice results show up in the lesson complete emails and on the parent dashboard.
I have several ideas to make this more customizable as I continue to build it out so that you can get your student exactly the practice they need the most.
This is brand new so I'd love to hear from you after your student tries it out!